A Hong Kong seller already has a loose Agent Venom up for auction on eBay.

http://www.ebay.com.au/itm/181449860973?ssPageName=STRK:MEWAX:IT&_trksid=p3984.m1438.l2648

When asked if he had or would be getting more, he seemed to be fairly confident that he would and that people could have them for $70 shipped (US or AU I didn't ask).

Is anybody interested at that price point?

Have I gone a little crazy in that I'm considering paying above 200% retail for this?

Cheers
Alex

it could be like the deadpools floating around on ebay they seem to be never ending and will go down more and more in price. But the chance of seeing one here is pretty low seeing as we get nothing ever



Number of posts

: 71


Age

: 27


Location

: South Australia


Trading Status :

0


Registration date :

2013-05-05



Yeah I've seen those Deadpools. The white/black and silver/black I get, but what's up with the pearl green/yellow ones?

It's the same seller btw. uswrestlers/viperkingdom/usviper/etc.

He reneged on that price anyway. I guess if your auction has hit US$77 you would prefer to do it that way.

-awe
i wouldnt risk getting it if it is the same seller as i got a blue and yellow deadpool when he had them and it looks good but the plastic used is really strange and super soft almost like rubber



Number of posts

: 71


Age

: 27


Location

: South Australia


Trading Status :

0


Registration date :

2013-05-05



Briggs_23 wrote:i wouldnt risk getting it if it is the same seller as i got a blue and yellow deadpool when he had them and it looks good but the plastic used is really strange and super soft almost like rubber
Something tells me you're right Briggs.
I got this after my failing bid. So that's how it works, hey? I'm over my moment of madness now though. $70 is just a bit too steep.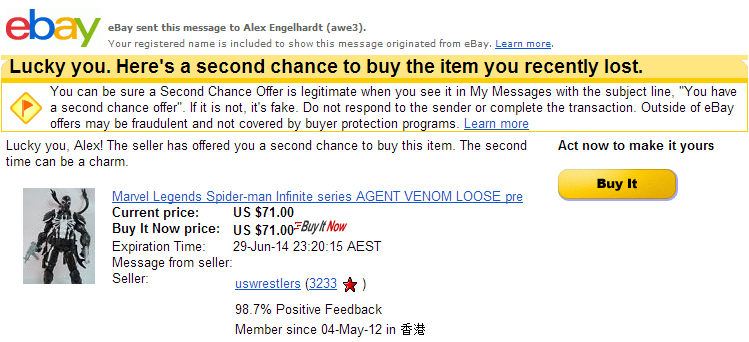 $150 US.

Bwahahahahahaha!

http://www.ebay.com/itm/281383008211
I'd love to get this guy but sounds like he's still a bit rare at the moment, a guy I watch on youtube just got one from HK off eBay (in a previous video he mentioned that he purchased him loose but he arrived MIB), here's a video review:


/\ Giant Trunk Between Legs




Number of posts

: 1048


Age

: 37


Location

: Brisbane


Trading Status :

28


Registration date :

2008-05-25



Keep in mind that this is the same guy who was asking more than $50 for loose AIM agents when people were actively selling them MIB for $30.

He's gotten stars in his eyes and charges accordingly now.

Good things come to those who wait. Hasbro is now doing solid cases of AIM agents and other, so fuck this guy.



Number of posts

: 432


Age

: 45


Location

: Canberra, Australia


Trading Status :

3


Registration date :

2012-09-09



I ended up going to eBay for him. Probably cost about $60 AUD all up. The paint apps are a bit sloppy but... yeah. He's cool.
Aw man, been reading GotG and really want a Venom now, hope these get local release somehow
/\ Giant Trunk Between Legs




Number of posts

: 1048


Age

: 37


Location

: Brisbane


Trading Status :

28


Registration date :

2008-05-25




Similar topics
---
Permissions in this forum:
You
cannot
reply to topics in this forum